In this blog, we explain for what purposes you need a laboratory platen press. We also point why a dedicated laboratory press is the best solution to prepare your samples, even if you have a production press or an injection moulding machine at your disposal.
What is a laboratory press?
A laboratory platen press is a device that is used to press different kinds of sample materials, like rubbers, polymers, and composites. Pressing the samples prepares them for a wide range of tests, such as elongation tests, Mooney viscosity, tensile strength, and so on.
If you want to run reliable tests on your samples, you will often have to create a specimen first. Depending on the sample material and the tests you want to perform, you might need to follow specific guidelines, such as ASTM D3182 (for tests on rubber samples) or ASTM D4703 (for compression moulding thermoplastic materials).
The outcome of analyses can only be compared when your specimen is consistently well-made.

Fontijne Presses' laboratory platen presses comply with multiple international test standards
Compression versus injection moulding
While it is not necessary to use a dedicated laboratory press for this, there are many good reasons to do so anyway. Thanks to its simplicity, compression moulding – the technique that is used on laboratory platen presses – is very cost-effective when compared to other techniques, and little material is lost during the moulding process. You can also use an injection moulding machine to prepare samples, but this involves high tooling costs and long lead times to get the job done.
A large production press can be used for this job as well, but if this press cannot perform its normal production duties, your production schedule might go haywire. Moreover, in case you are not satisfied with your first specimen, optimizing and tuning will take much more time and effort on a production press compared to a laboratory press.
A dedicated laboratory platen press not only enables you to quickly change all relevant settings but also allows you to easily switch between different sample types and materials. For instance, if you want to prepare PP-samples now, and switch to PE-samples in the next 15 minutes, this is perfectly possible on a laboratory press. However, on a production press or injection moulding machine this is much more cumbersome and time-consuming.
Furthermore, a laboratory press has a small footprint, allowing you to house the press conveniently inside the lab where the testing is done.
In general, scientists and researchers prefer to work with laboratory platen presses because of their precision and their ability to provide reliable and consistent results over the years.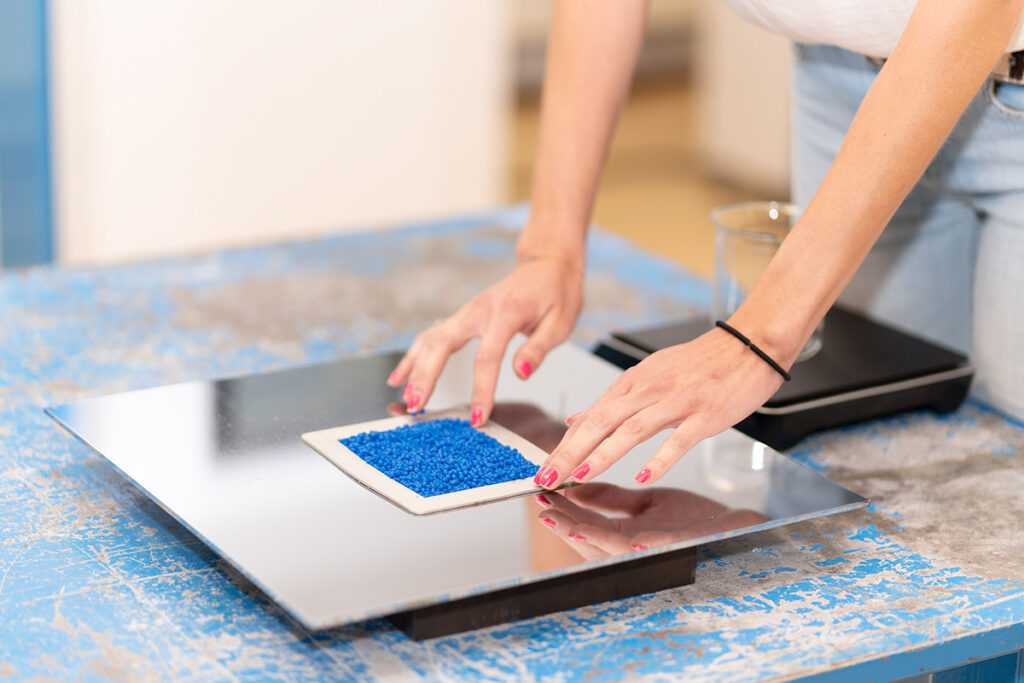 A laboratory platen press allows you to easily switch between different sample types and materials
Materials & applications for laboratory presses
Laboratory platen presses are needed to prepare samples for R&D and quality tests in many different industries and material categories, like rubbers, polymers (such as PE, PP, PS, ABS, etc), composites, ceramics, wood, thermoplastic resins, textiles, as well as for laminating and pharmaceutical applications.
Apart from R&D work and testing, laboratory platen presses can also be used for short production runs and lean manufacturing applications. And they are also often being used for educational and research purposes in universities.
Feel free to contact one of our specialists if you would like additional information on laboratory platen presses.